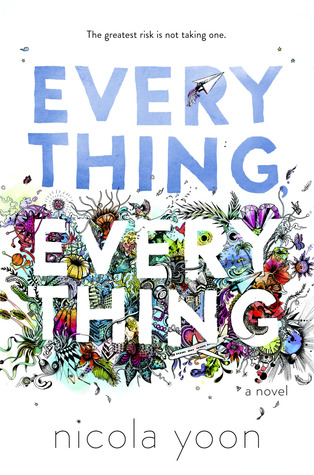 Synopsis: 
My disease is as rare as it is famous. Basically, I'm allergic to the world. I don't leave my house, have not left my house in seventeen years. The only people I ever see are my mom and my nurse, Carla.
But then one day, a moving truck arrives next door. I look out my window, and I see him. He's tall, lean and wearing all black—black T-shirt, black jeans, black sneakers, and a black knit cap that covers his hair completely. He catches me looking and stares at me. I stare right back. His name is Olly.
Maybe we can't predict the future, but we can predict some things. For example, I am certainly going to fall in love with Olly. It's almost certainly going to be a disaster.
Review:
First off I want to thank Marissa at Growing-Up Book Nerd for holding the contest which allowed me to pick this book. I had my eye on it for a month or two based off all the amazing things people who received the ARC were saying. It definitely lived up to the hype.
Everything, Everything was well, everything. It took me on a roller coaster of emotions. It pulled me in and didn't want to let me go. It had characters that were relatable, real, and different. It didn't sugar coat the realities of life. At first I wasn't sure how I felt about the layout, but in the end I really loved it. It really helped me get into the mind of Maddy. The illustrations and cover were beautiful as well.
I really loved the characters Maddy and Olly. I liked how Maddy wasn't perfect, that she had flaws. She was strong, but at the same time she had her insecurities that I think all teenage girls have. Most of all I loved that Maddy was able to live her life on her own terms. As for Olly, he wasn't your typical teen heartthrob. He too had flaws and was quirky.  I like how their families were discussed, the good, the bad, and the ugly. Carla, Maddy's nurse was also a breath of fresh air. She provided a dynamic that only added to the story of Maddy and Olly. I loved her relationship with Maddy and how she cared for her as if she was her own.
One thing I wasn't a fan of was how rushed the ending felt. It was building up to this big realization and event, but then it just answered everything so simply and tied it in a neat little bow. I wish were given more insight to why Maddy's mom did what she did. I wish there was more to the New York story.
Overall I'd recommend this book. if you love a cute story about young love and can handle a little sadness strewn throughout this book is for you. It's sweet, sad, and uplifting. Remember, the greatest risk is not taking one!